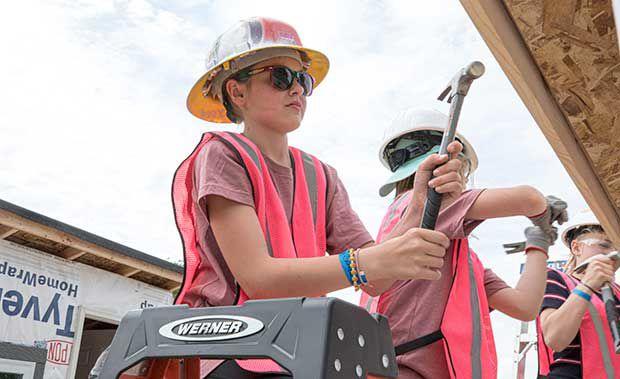 MARINE ON ST. CROIX — Construction has long been a male-dominated industry, but the Power Girls program at Camp Lakamanga aims to change that.
Power Girls, a special STEM-focused camp program, was held earlier this summer in a partnership between the Girl Scouts River Valleys chapter and Dunwoody College of Technology in Minneapolis. Through Power Girls, campers spend six days learning the ins and outs of construction, and put their newfound knowledge to use through building tiny houses.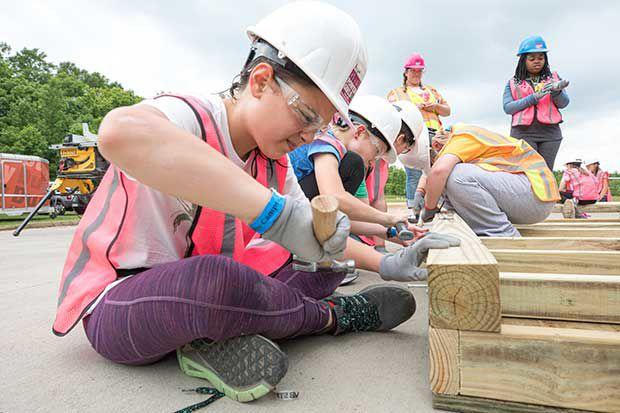 Heather Gay, program manager of construction management and civil surveying at Dunwoody, said that women are severely underrepresented in the construction industry, making up just 9% of construction workers in the U.S. 
"It's one of the lowest female-represented fields out there, but it's also one of the highest-paying, and it offers some of the most consistent employment," she said. 
Through Power Girls, Gay and her colleagues hope to spark girls' interest in the trades early, especially as many businesses seek to recruit more women. "We want to encourage them to look at jobs that they might not have considered otherwise," she said. "An industry that is 9% female does not represent what our population looks like, and from a diversity and inclusion perspective, it's important to make it more equal."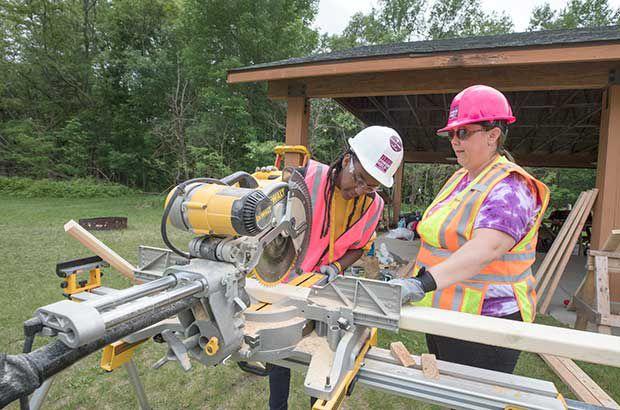 Last summer was the Power Girls program's inaugural year, and many participants came back for its second. Of this year's 56 participants, 16 were returners. "So, that's 30% who were coming back to the same camp for the same program," Gay said. "I don't think that's normal, but it was definitely one of the cool things from last year to this year."
Days started early for campers and staff—sometimes as early as 6 a.m.—and ran well into the evening. After breakfast and traditional camp activities like swimming and archery, participants were divided into two groups and took turns working on the houses.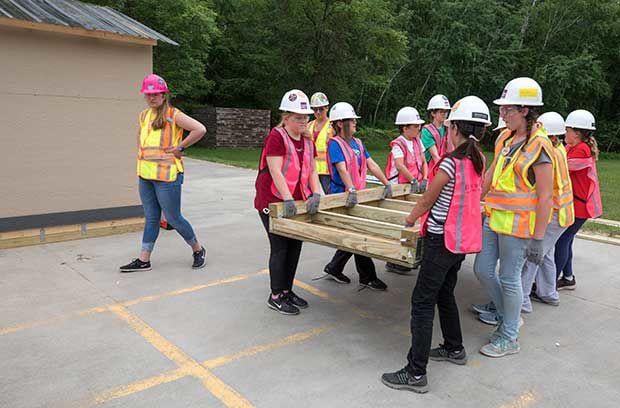 "We'd build for about an hour and a half, then switch to the second group. After lunch, the girls would come back for a second shift each," Gay explained. "I think we finished our work between 7 and 8 every night. They were long, fantastic days."
Stepping onto a construction site and wielding power tools can prove intimidating even for grown adults. Gay said that staff worked hard to create a supportive learning environment for campers, one in which asking questions and trying new things was encouraged.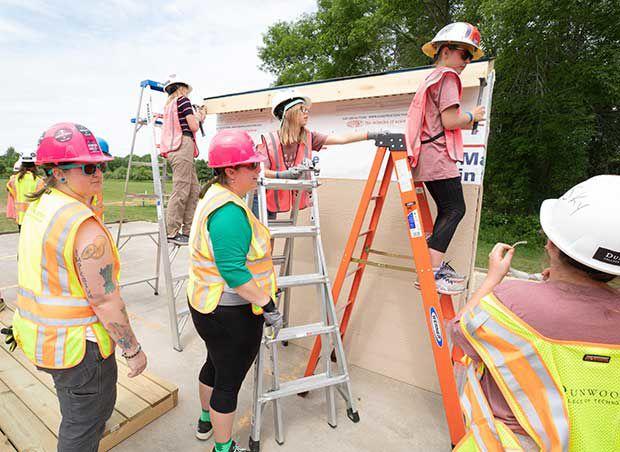 "We hope that they'll come out of the camp knowing that they're able to try something, and maybe initially they failed, but they'll try again. Part of it is that idea of grit and determination," Gay said. "Many of the girls had never been on a construction site or worked power tools before. But they were absolutely fearless. A lot of them worked with tools that grown people haven't touched, really taking that step up to lead and to learn."
Throughout the six days, Power Girls campers and staff developed strong relationships, Gay said, which helps girls see a place for themselves in the construction industry or other STEM-related fields.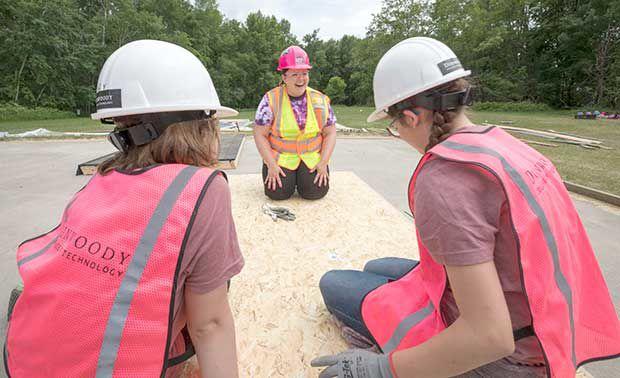 "I think girls are often taught to be afraid of power tools and construction sites because they don't see someone who looks like them out there doing it. They may not have a mom (who's a) laborer," Gay said. "We want them to see that there are women out there who do this and that they're strong and love working in this industry."
A former Girl Scout herself, Gay said her experience with the Power Girls program has been both professionally and personally fulfilling.
 "It (Girl Scouts) was something that really grew me as a person, and I can see why this camp is so important," she said. "It's so amazing to be able to be out at camp as an adult and work with young people and show them something a little different than what their current paradigm is."
Elizabeth Callen is a staff writer and reporter for the Lowdown. She can be reached at 651-407-1229 or lowdownnews@presspubs.com.