The St. Croix Valley will transform into a sprawling outdoor art gallery for three weekends in September, when Take Me to the River returns for another year. The annual event, which runs Sept. 7-29, is a massive endeavor, with 14 individual events expected to draw tens of thousands of art enthusiasts to the area throughout the three weekends.
Deemed the "festival of festivals," Take Me to the River includes art fairs, open artist studios, music festivals and more, offering visitors the opportunity to engage with art. Whether you're seeking to create a memorable art-filled day or plan on, exploring the St. Croix Valley's arts scene is made easier with the sample itineraries available on the event website, takemetotheriver.info. Below is an overview of when and where selected events will take place throughout the nearly month-long arts celebration.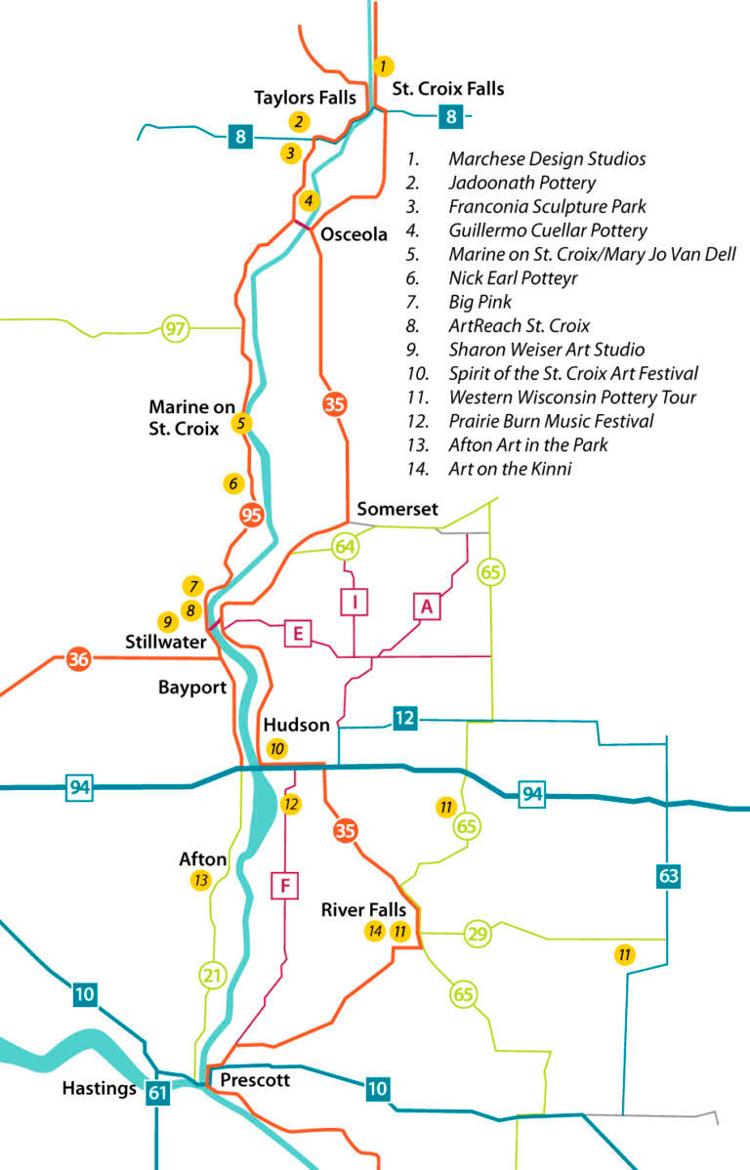 Franconia Art and Artists Celebration
Franconia Sculpture Park, Shafer
12–6 p.m. Saturday, Sept. 28
Franconia Sculpture Park will host a full day of family fun Sept. 28, offering hands-on art activities and free guided tours of the 40 new sculptures by this year's artists. Musical performances will take place throughout the day—the line-up features the Swongos, the Gentlemen's Anti-Temperance League and headliner Superior Siren. Food and drinks will also be available for purchase. For more information, visit franconia.org/events-programs
Three Artists at the Big Pink
10 a.m.–5 p.m. Sept. 20–22
Take Me to the River's newest event invites visitors to enjoy art and architecture at a unique Stillwater landmark. The Big Pink, designed by Tim Old, will host pottery, painting, photography and weaving and will highlight work by artists Joe Samuelson, Paul Randall and Kristen Kaas Sept. 20–22. Enter from the intersection of North 2nd St. and Willow St. For more information, visit josephsamuelson.com or kristenkaas.com.
10 a.m.–5 p.m. Sept. 21–22
Downtown Marine on St. Croix
More than 100 artists displaying a variety of fine arts, pottery, woodworking, jewelry and photography during the 46th annual Marine Art Fair. Proceeds from sales benefit the Marine on St. Croix Fire and Rescue Department. For more information, visit marineonstcroix.org/artfair
Sharon Weiser Art Studio Sale
12 p.m.–8 p.m. Sept. 21 and 10 a.m.–5 p.m. Sept. 22–23
1940 S. Greeley St., Stillwater
Sharon Weiser and guest artists invite festival-goers to enjoy a beautiful weekend in Weiser's spacious, light-filled studio. Weiser, an award-winning representational painter, established her studio in 2011. She will be joined by Nadine Jentzsch and Jon Kamrath. Jentzsch uses acrylics and mixed media to create abstract/intuitive paintings and has a mission to create art that calms the soul. Kamrath creates architecturally-inspired sculpture and landscapes constructed from clay, metal and wood. For more information, visit sharonweiser.com
10 a.m.–5 p.m. Sept 27-29
Abnet Farm, 16885 Square Lake Trail, Stillwater
A still place in a turning world, Abnet Farm was established in the 1960s by the late potter Richard Abnet. Come experience beautiful handmade pottery spread throughout the century-old barn and its surrounding gardens. Join Nick Earl and guest potters Bill Gossman, Ernest Miller and David Swenson for a weekend full of wonderful art and great people in an inspiring setting. For more information, visit nickearlpottery.com
Peter Jadoonath Backyard Pottery Sale
10 a.m.–5 p.m. Sept 27–29
Peter Jadoonath and friends Joe Singewald, Ani Kasten, Mike Helke, Ross Nordquist and Sarah Dudgeon will sell a diverse selection of functional pottery. The annual sale is hosted at the Jadoonath studio, a 19th-century homestead surrounded by towering maples and old pine trees. Visitors can enjoy a fall beverage with great pots, great people and a slice of pie.
Guillermo Cuellar & Friends Fall Pottery Sale
10 a.m.–5 p.m. Sept. 27–29
The annual three-day sale takes place at Guillermo Cuellar's studio, located on the bluffs that overlook the St. Croix River. Cuellar will exhibit his handmade pottery alongside that of Alana Cuellar, Doug Hanson, Jim Lorio, Leila Denecke and Mike Norman. Furniture by wood and metal artist Paul Howe, Peruvian rugs and weavings from ArtAndes, and botanical print scarves by Diane Gamm will also be available for sale. Look for a red sign for the pottery on St. Croix Trail (Hwy. 95), a half-mile north of the intersection of Osceola Trail (Hwy. 243).
Mary Jo Van Dell Studio – Judd Street Exchange
1–8 p.m. Sept. 27 and 10 a.m.–5 p.m. Sept 28-29
Above the Marine General Store, 101 Judd St., Marine on St. Croix
Van Dell Studio and Gallery, the Judd Street Exchange, features Mary Jo Van Dell's contemporary oil paintings as well as other fine art by established ceramic, wood, glass and sculptural artists from the region. Located above the historic Marine General Store, visitors are invited to experience the unforgettable art and scenic charm of the St. Croix Valley. For more information, visit maryjovandell.com
10 a.m.–5 p.m. Sept. 28 and 11 a.m.–4 p.m. Sept. 29
The 41st annual Afton Art in the Park will be held Sept. 28-29. The two-day outdoor fine arts and traditional craft fair takes place in Afton's Town Square Park and features more than 90 vendors showcasing fine arts, pottery, woodwork, jewelry, photography, sculpture, fiber and more. For more information, visit exploreafton.com/art-in-the-park
Spirit of the St. Croix Art Festival
10 a.m.–5 p.m Sept. 28 and 10 a.m.–4 p.m. Sept. 29
Each year, the Spirit of the St. Croix Art Festival draws thousands of visitors to experience creativity through a wide variety of artistic disciplines. This year's event features original artwork by more than 90 juried artists, showcasing their work on the banks of the St. Croix. Artist demos, music and live performances will add to the atmosphere of fine art amid the fall weather.