SHOREVIEW — Over the last several months the new library has been putting the finishing touches on its walls with local art. 
Many of the pieces were purchased or commissioned by Ramsey County Library - Shoreview with funds raised by the Friends of the Ramsey County Libraries for the library's capital campaign, Friends Executive Director Cyndi Cook said.
The artwork is diverse — inspirations and subject matter range from wetlands and cityscapes in Shoreview to library and book-themed. Several artists are from Shoreview and Vadnais Heights; all are from the metro area.
Shoreview photograph greets visitors
At the entrance to the library is a metal print of a photograph of Slice of Shoreview Days at Island Lake by Jim Radford, of Shoreview. Funds for the piece were donated in honor of longtime Friend member Nancy Guerino.
Radford took the photo of the moon over the lake during the city festival in 2016 using a long exposure. Radford, who displays his photography in restaurants locally and across the metro several times a year, said he is honored the library sought out his work. 
"It is really a great place to put art — in a library," he noted. Surrounded by written art in the form of books, visual art fits in nicely, he explained. 
Radford has been a photographer since he was 12 but ramped up his hobby when he retired from 3M. He specializes in outdoor scenic photography and sells his work.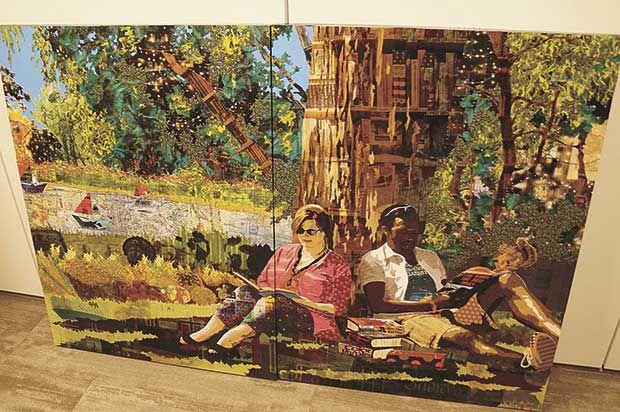 Community collage over coffee
Near the entrance to the library above the coffee maker, a collage piece by Kristi Abbott will be up on the wall soon, said Library Manager Carol Jackson.
Within the collage can be seen Shoreview Mayor Sandy Martin, the Shoreview flag, a water tower, historical buildings, the farmers market, flags from large immigrant groups and many other local motifs. A key to the collage will be posted next to it. 
Abbott is well known for a similar type of piece she created of Prince. She has also been commissioned to make the 2018 State Fair poster. Abbott has a studio in Lowertown St. Paul.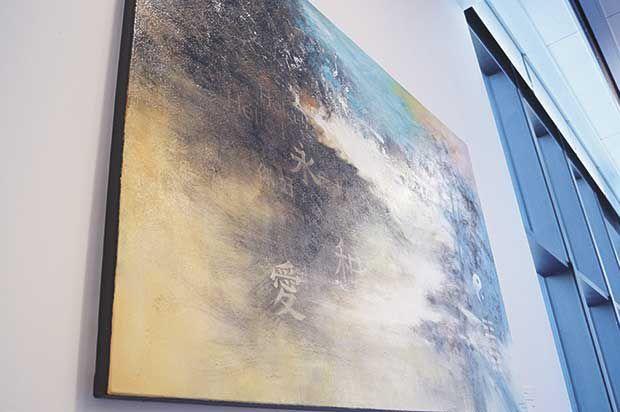 Bringing community together across cultures
In the community room is a painting by Yudong Shen, of Shoreview.
The art piece he created, "Unlimited," represents how libraries bring together people from various cultures and the unlimited possibilities people from different backgrounds can create together as they contribute to the community, he said. 
"(A) library is the home that unites us all," Shen said. Within the painting of a river flowing from a Roman building is the word for "hello" in four languages, including English, Spanish, Chinese and Hindi. More languages are in the background, he noted. Also included are the Chinese characters for "peace," "love" and "never give up."
The piece was donated by the local Chinese community. Shen owns Mei Lin Art Studio in Shoreview.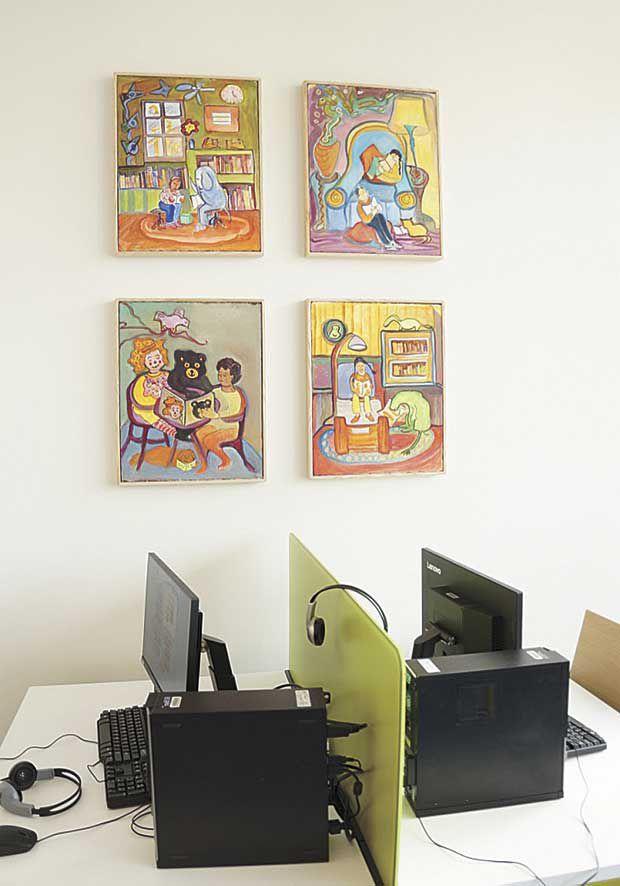 Children and animals read books
In the children's area near the computer space are four paintings of children reading books with a bear, an elephant and friends or family.
Emmy White, of Minneapolis, said she made the varnished watercolor pieces with young children in mind. She made the pieces with spray varnish so they would not need to have glass on top, which would reflect near the windows. Her son makes wooden shadowbox frames for her work. 
"I've been painting really almost all my life," White said. When she retired from nursing she started taking classes and took her hobby to another level.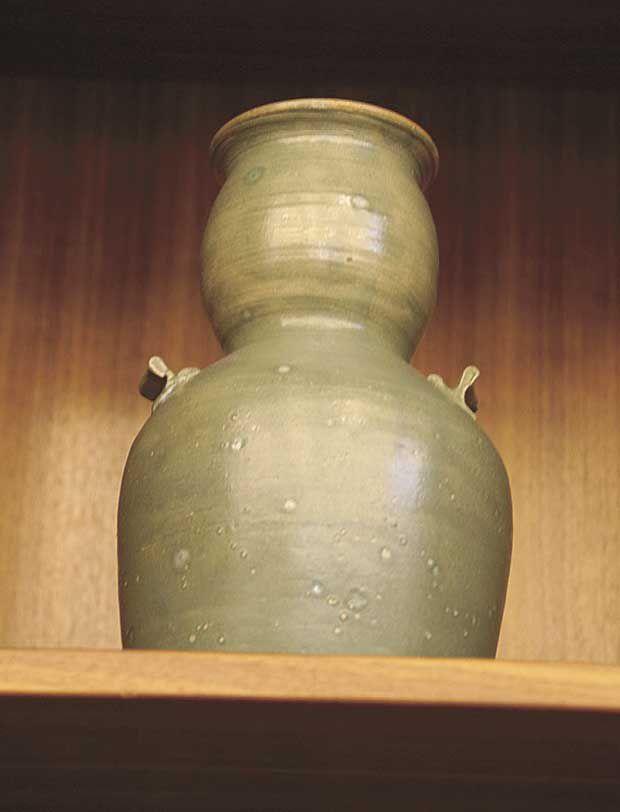 Four pottery pieces by Paul Gaston, of Vadnais Heights, fill shelves by the large print and talking books. 
A light cream Raku-fired piece represents the beginning of the library system, Gaston said. It was heated to 1,500 to 2,000 degrees outside to complete the glazing process. The natural, organic process represents a beginning, he noted. 
Two other tall pieces are porcelain and a short, oval-shaped piece is earthenware, which is usually fired below 1,200 degrees. 
"All of them represent new beginnings for the library and community," Gaston said. 
Gaston has been a potter for 35 years and has a studio in his garage. Gaston is a member of Gallery 96, is on the White Bear Center for the Arts board and has also taught pottery in the past.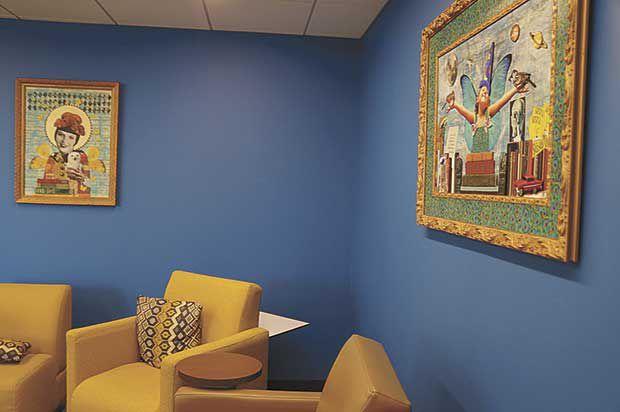 Peacock room gets a peacock interpretation
Janine Olmscheid, of Shoreview, made multimedia pieces for the book club room. 
Olmscheid said the first piece, a giraffe surrounded by books and card catalogs with a hidden map of Shoreview, was noticed by library staff at a Gallery 96 exhibition. The library art committee asked to purchase it and asked her to make two more pieces for the book club room, which was sponsored by the Peacock family. 
Olmscheid said she doesn't know the Peacock family but was inspired to make her second piece a peacock interpretation, a girl with blue butterfly wings. There is also a peacock on the left side among some books and a peacock print in her dress and the border. A third piece follows a similar theme with books and butterfly wings. 
Encouraging people to take a closer look is what Olmscheid enjoys about her collage artwork, which she has been making for about 10 years.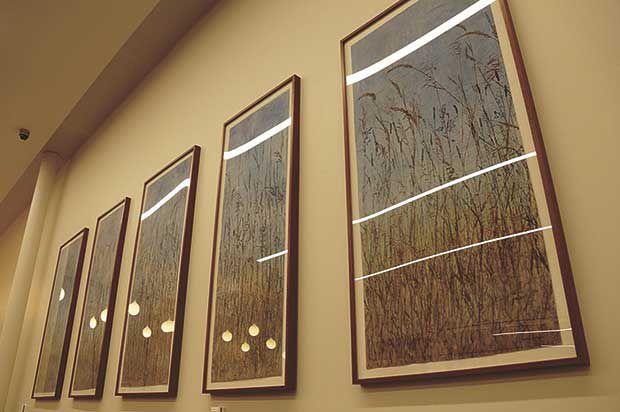 Wetland grasses grace a wall
Five botanical prints made out of grass from Grass Lake in Shoreview grace the west wall of the library near the hydro fireplace. They were made by Linda Snouffer, of St. Paul. To make the piece, she placed ink on grasses and pressed them onto tissue paper with a pigment infusion. 
The five pieces have 500 prints of individual grasses, she said. They range from a few inches to 5 feet tall. The tallest ones are from Grass Lake across Highway 96 and she also gathered grasses from other areas. 
"I got as many varieties from across the street as I could," she noted. It took 150 hours for Snouffer to make. It was her largest commissioned piece, and she had to move to a larger studio to work with the large grasses, she said. She has been working as an artist for 10 years.
Additional art fills the library
The art committee still has plans for additional artwork in the teen meeting room and comfort room, Cook said. Photographs from the Shoreview Historical Society will also be going up in the library's study rooms.
Gallery 96, located in Shoreview, also donated funds for rotating art display hangers in the community room, Jackson said. The gallery will do two to three displays per year and other groups will also use the wall; the library hopes to partner with local schools to display art from local youth. 
Finishing touches to graphic illustrations in the entryway and children's area were also completed this month. The inspirations from Minnesota children's authors are part of HGA Architects' design for the building and were chosen by children's librarian Angie Miller. 
At the library's entrance is a tree full of owls, a graphic illustration on glass adapted from "Twelve Owls" by Minnesota author Laura Erickson and illustrator Betsy Bowen. Near the checkout area and entrance to the children's area is a display from "Swirl by Swirl," a children's book written by Minnesotan Joyce Sidman and illustrated by Beth Krommes. Inside the children's area is a graphic from "On the Day You Were Born" by Minnesota author and illustrator Debra Frasier.