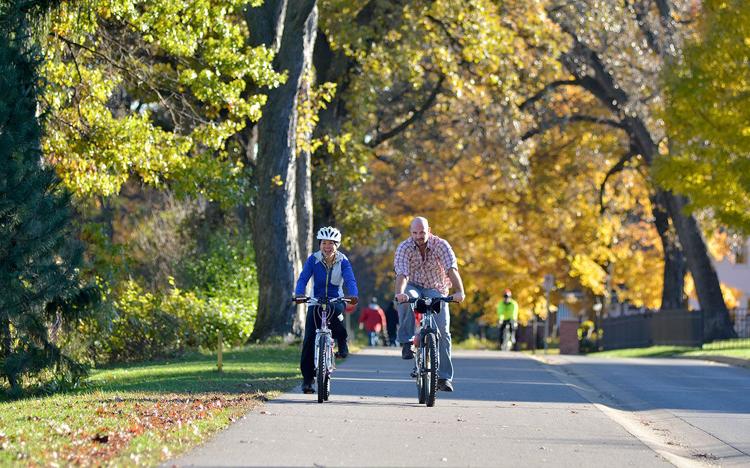 In the fall, the Gateway and Brown's Creek Trail corridor gives any visitor a front row seat to one of nature's finest shows. Recently, a swelling number of people are enjoying the splendor of the changing leaves via electronic bicycle, or e-bike.
E-bikes have a removable, chargeable battery that can help power the rider up steep hills, or provide an extra burst of speed at the push of a button. E-bikes are still powered mostly by pedaling, but as long as they do not travel faster than 20 mph and are operable by human propulsion, they are welcome on Minnesota state trails.
Tamra Hartman runs the Gateway Trailside food truck, bordered by a tidy picket fence at the Gateway's mile marker 15. In addition to offering a menu that emphasizes fresh and local food items for bicyclists on the go, Hartman is a passionate advocate for e-bikes. She feels that these bikes have opened the trails for a lot more people to enjoy.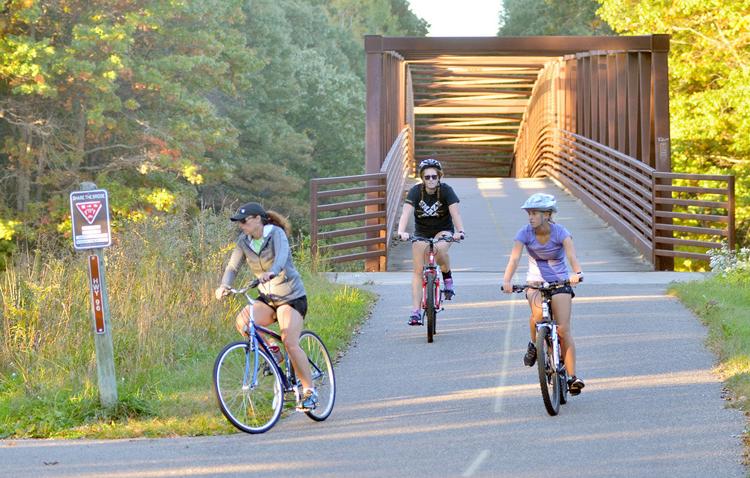 "There are so many people that are avid bike riders on the trail that would love to share this passion with friends and loved ones, but those people have a fear of not keeping up or of 'that hill,'" Hartman said. "We live in Stillwater so there are a lot of 'those hills.' We are blessed to live in a stunningly beautiful place with an amazing trail system. Isn't it a pity to think there is an entire group of people who are missing this gift?"
Hartman also offers Pedego e-bikes rentals, which can be arranged online in advance at gatewaytrailside.com
Hartman isn't the only one who has noticed an uptick in the number of people purchasing and renting e-bikes. Gateway Cycle sits in view of the trail where it runs along Highway 36 before cutting north into the forested isolation of the river valley. Since 1992, owners Joan Kahle-Berger and Bill Berger have sold bikes to thousands of visitors along the Gateway Trail corridor.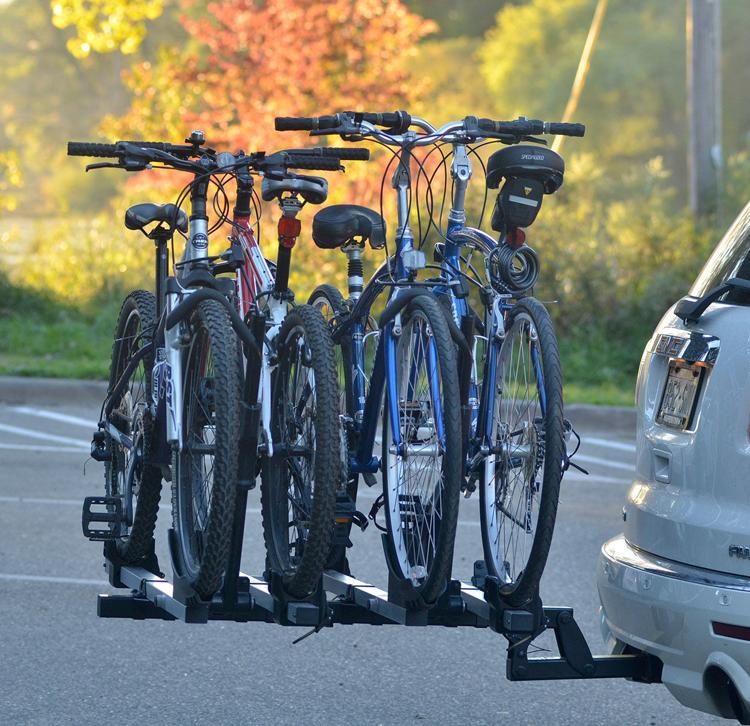 "The technology has become more refined and the price has come down as more companies produce e-bikes," said Kahle-Berger. "They are fun and easy to ride, with longer life and easily rechargeable batteries. All kinds of riders love e-bikes. Maybe you have difficulty keeping up with your partner on bike rides, or a disability that keeps you from riding a regular bike and need the assist of an e-bike. E-bikes are great for commuting, riding on longer trips, or just every day biking." 
According to Liz Stejskal of the Gateway Brown's Creek Trail Association, a recent trail use survey showed that the Gateway and Brown's Creek trails are the most used within the Minnesota trail system. The easy access to St. Paul's metropolitan area gives the trails a "dual personality." 
"Folks who take the time to travel the entirelength of these two trails really get a feel for the bustling city of St. Paul and for the wonderful pastoral landscapes just east of downtown," Stejskal said.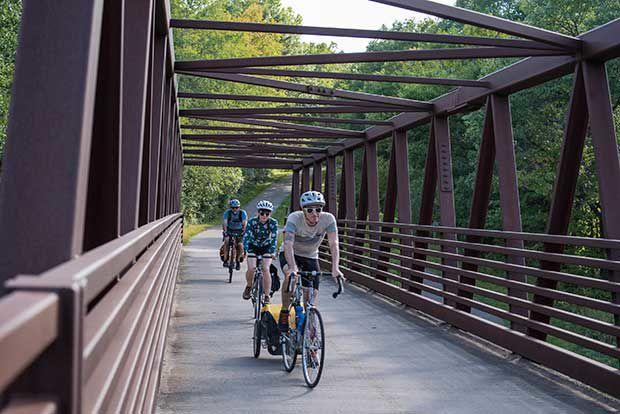 The Gateway and Brown's Creek Trail are managed by the Minnesota Department of Natural Resources. When the Soo rail line that ran alongside the river was closed in 1980, the group that would become the Gateway and Brown's Creek Trail Association played a large role in securing the funding that established the trail. Today, the Gateway Trail runs 18 miles from St. Paul to Pine Point Park in Grant. 
Brown's Creek Trail, which runs 6 miles into downtown Stillwater, was opened to the public in 2014. Built along the former Zephyr train route, the trail follows the scenic views of St. Croix River and cuts west through the woods, parallel to a pristine trout stream. This trail is fairly level and accessible to users of all abilities. 
This route is particularly enjoyable during the fall, when rich autumn colors surround from all sides. 
The DNR also hosts events along the trail. This year's selection includes a women's fall colors trail hike in September, and a candlelight walk and geocaching in October. See the State Trails page at www.dnr.state.mn.us for more information about upcoming events along the trails.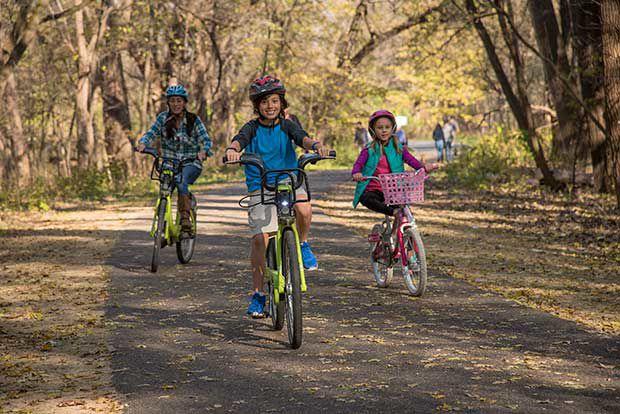 The Gateway and Brown's Creek Trail system will soon include the St. Croix Crossing trail loop. The 4.7-mile paved trail will cross over the restored Stillwater Lift Bridge, travel along the Wisconsin side of the river down to St. Joseph, where it will cross back over on the new St. Croix Crossing Bridge. From Bayport, they can head back upriver to complete the loop.  
MnDOT St. Croix Crossing Coordinator Todd Clarkowski said that the final portion of the loop trail is slated to open in November 2019 with the completion of the Stillwater Lift Bridge restoration project. All of the on-land portions of the trail are currently complete. 
GBCTA is also aiming to extend the Gateway Trail—south to the state capitol, and north to Taylors Falls. GBCTA members encourage those who enjoy using the trails to donate or join the membership in order to help achieve some of these initiatives. Visit gatewaybrownscreektrail.org to learn more.
For those interested in trying or purchasing an e-bike, there are many local options. 
Chilkoot Café and Cyclery, located at the top of Stillwater's famously steep South Hill, offers a full service bike shop in addition to a hearty menu of made-from-scratch foods and fresh-roasted coffee. Owner and manager Nik Stylos said he gets questions about e-bikes almost daily, and has begun stocking e-bike models from Cannondale and Specialized. Thinking beyond the fall season, Stylos added that Chilkoot also offers fat tire bikes, which enable cyclists to keep riding through the winter months. 
Mike's Electronic Bikes in Stillwater deals exclusively in e-bike rentals. Customers can rent brand new e-bikes from Rad Power Bikes, and receive help in crafting their own custom tour of Stillwater. 
"From a touring standpoint, you are able to enjoy your surroundings without exerting much effort," owner Mike Herman said. "Little effort is needed to go up even the steepest of hills. Electric bikes also give you the ability to get as much of a workout that you would want because of the different levels of assist on the bike."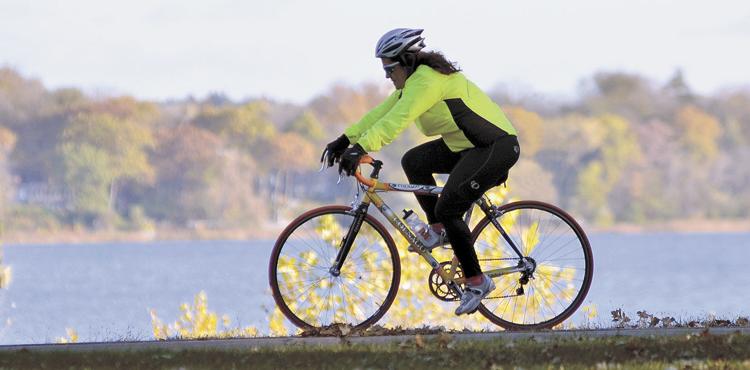 Many who spend time on the trails have remarked on the friendly encounters with other recreationists along the way. Here are a few tips from the Minnesota DNR to keep the Brown's Creek and Gateway trails pleasant and safe:
Pass on the left when safe and give an audible signal
Stay to the right when others approach
Yield to pedestrians and slower trail users
Stop at all stop signs
Keep trails clean by taking trash when you leave
Keep pets on a leash and under control at all times
Pick up after your pets
Respect adjoining property