There has been a lot of controversy over lake names in Minneapolis in recent year. This article has nothing to do with any controversial issues. We will just take a look at how our North Oaks Lakes got their names, point out a few inconsistencies and then look at how important our lakes are to the wildlife, fish and quality of water in this area.
Back as far as 1867, Pleasant Lake, on area maps, was called by its current name. Some of the other lakes, in what is now North Oaks, were also named by then, but subsequently had a name change. Below is an image, albeit fuzzy, which helps illustrate the story. By stitching together historical Mounds View and White Bear Township maps, you get a nice view of the lakes in  what was soon to become Jim Hill's North Oaks Farm.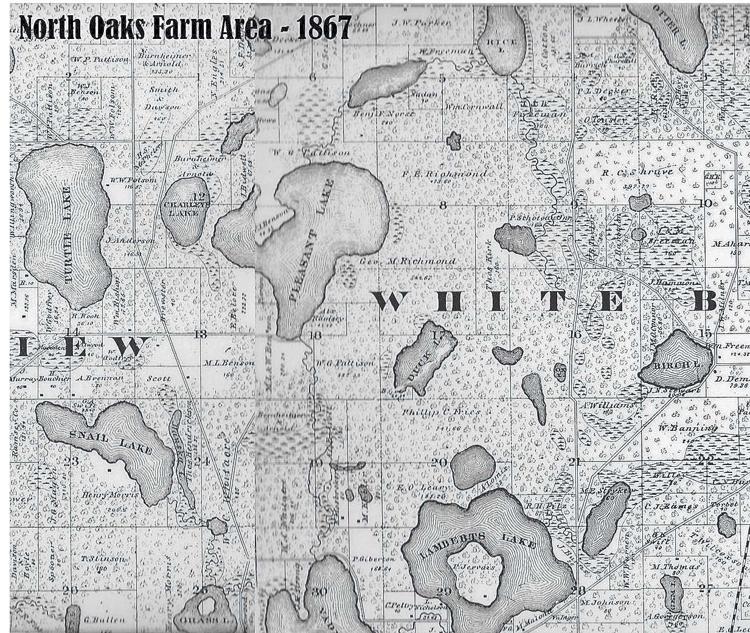 "Charley's Lake", a.k.a. "Charles Lake" from the 1880s until 1949, when it then shows up on the North Oaks Concept map as Charley Lake. 
"Duck Lake" has been known as Gilfillan Lake since the 1880s.
"Rice Lake" has been known as Wilkinson Lake since the 1880s.
Both Deep and Black Lakes were unnamed in 1867 but had their present-day names by 1886 as shown below.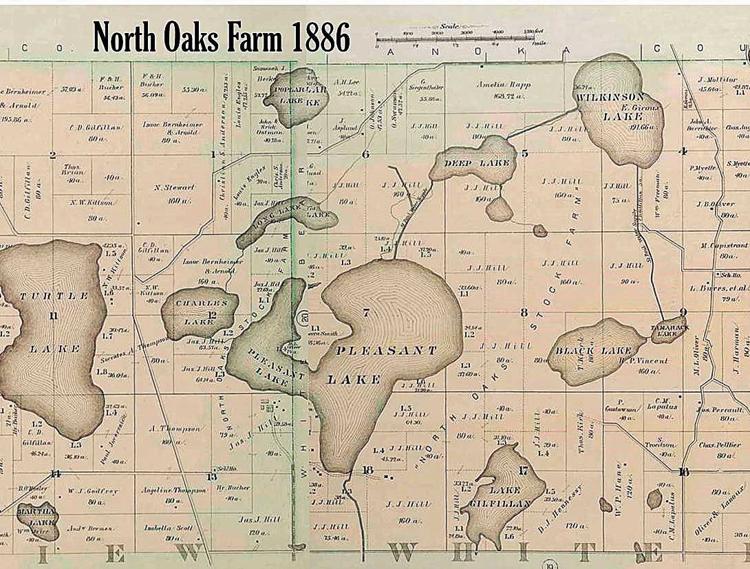 Where did these lake names come from?
Gilfillan Lake is named after Charles Gilfillan, who initially owned the land around the lakes of North Oaks, and secured their water rights for the city of St. Paul.  
An item in the book "Three Bold Ventures" (by Joan Brainard and Dick Leonard) cites "The History of Ramsey County and St. Paul," written in 1851 by Edward D. Neill and J. Fletcher Williams. The authors identify Socrates A. Thompson as the person who named Pleasant Lake after spending a pleasant night on its shore in March 1850.
The same book mentioned above states that Charley Lake was named after Charlie Ferguson, an early settler. 
According to the book "The History of St. Paul and Vicinity" by Henry A. Castle, Wilkinson Lake's name is attributed to Ross Wilkinson, who filed the first claim on land on its shore. 
It is unknown who named Black and Deep Lakes. We can only speculate that Deep and Black Lakes were so named because they are both relatively shallow with dark bottoms, thus giving the impression that "Deep" is deep, and "Black" is black.
While no one can argue that 690-acre Pleasant Lake, which plunges to 58 feet, is aptly named, Deep Lake is really not deep! This 78-acre lake has an average depth of only 5 feet and its deepest area reaches about 11 feet. Black, Charley, Gilfillan and Wilkinson Lakes are also comparatively shallow lakes. Charley Lake has become deeper over the years due to the scouring effect of the strong current flowing in from the Mississippi River conduits. 
This table shows the surface area and maximum depths (in feet) of our North Oaks Lakes.

North Oaks' lakes contain an impressive diversity of fish species, including largemouth bass, smallmouth bass, white bass, rock bass, black crappie, white crappie, bluegill, green sunfish, hybrid sunfish, pumpkinseed, muskellunge, northern pike, tiger muskellunge, walleye, yellow perch, channel catfish, black bullhead, brown bullhead, yellow bullhead, bowfin (dogfish), bigmouth buffalo, common carp, golden redhorse sucker, shorthead redhorse sucker, silver redhorse sucker, white sucker, blackside darter, bluntnose minnow, golden shiner and spottail shiner. That totals 30 species!  Pleasant Lake is home to virtually all of the species listed above.
According to the Vadnais Lake Area Water Management Organization (VLAWMO) website, the most common species in each lake are noted below: 

North Oaks lakes are part of what is known as a watershed, which reflects how water moves within a given area. We have some interesting water movement in this community. I live in Deer Hills on the eastern side of North Oaks. We have a creek flowing on the northern border of our property. It ultimately flows north through the wetlands to Black Lake and then on to Wilkinson before heading south into Deep Lake, on to Pleasant Lake, and then under Highway 96 to Sucker Lake, Vadnais Lake and ultimately the St. Paul Regional Water facility.  
Just over the ridge behind our house, the water flows east into White Bear Township before turning north for a half-mile then back under Centerville Road to join the other Deer Hills water in the wetland. 
Wherever you live, take a look at the hills and ridges around you: they determine where any rainfall will be directed. You won't see many roaring streams between our lakes because the change in elevation between them is very modest—a total of 35 feet between Gilfillan and Lake Vadnais with 63% of that the drop from Gilfillan to Black and 35% the drop from Pleasant to Vadnais. The map below shows the elevation of each lake as shown on the MN DNR LakeFinder page of the DNR web site, starting with the highest elevation, a surprise to me, Lake Gilfillan. Please recognize these elevations do change over time, wet years upward, and dry years downward. In the map below, the arrows show the direction of water flow through the watershed to Pleasant Lake and then on to Sucker Lake and Lake Vadnais south of Highway 96.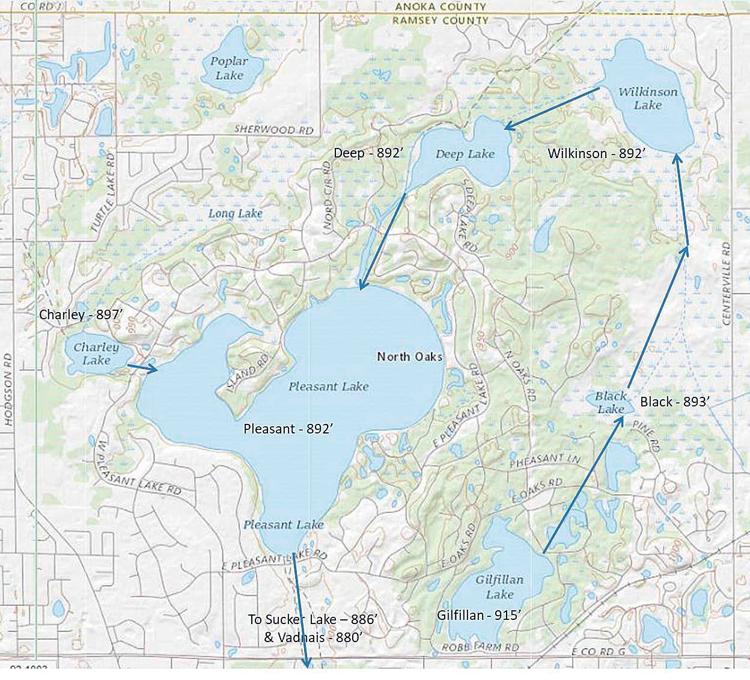 The map below from VLAWMO shows the interconnected nature of all the bodies of water in the VLAWMO area. Water quality in our lakes is critical to the 446,000 customers of the St Paul Water company, who depend on it.  St. Paul Regional Water Services delivers an average of 39 million gallons of water per day through their distribution system and most of it comes from the Mississippi River, supplemented by our watershed from North Oaks Lakes. Anything we can do individually and collectively to safeguard this resource is of vital importance.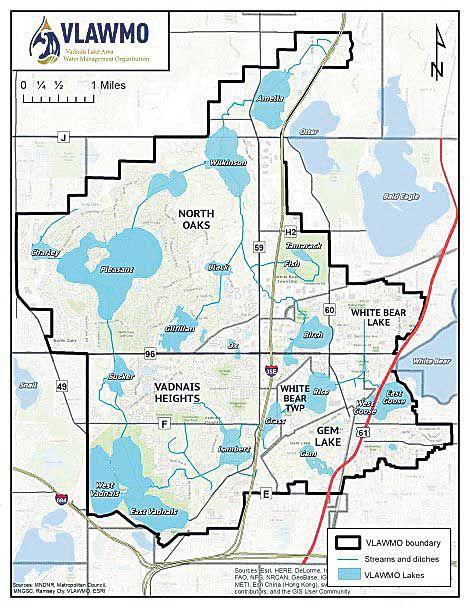 —Paul Dickson, President, Hill Farm Historical Society