Dr. George Millard of North Oaks says he's "not sure what got into me" writing not one, but two books at the same time, but that is just what he accomplished with the publication of "Ben Millard, Father of the Badlands: A Grandson's View" and "The Peace Corps: A Family's Response to JFK's Call." Both books are available from Amazon, and I can recommend them highly after reading and enjoying them over the past month.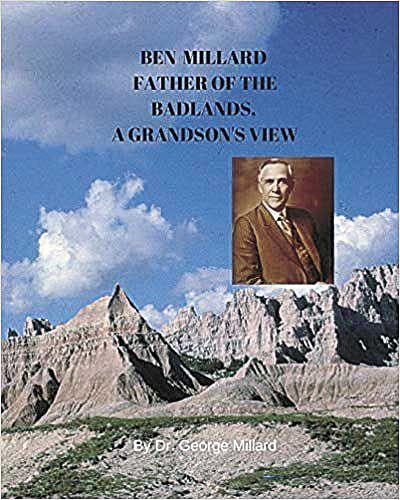 "Ben Millard, Father of the Badlands: A Grandson's View"
Ben Millard was a force to be reckoned with, and when he put his mind to a task, it was going to get done and done well. He was a banker by trade but he found his true calling while on a trip to the Badlands of South Dakota in the spring of 1927. With a background of the dust bowl, grasshopper plagues and the start of the Great Depression, Ben Millard would champion one of the most beautiful, untouched wildernesses of the American West. Through detailed research through his grandfather's papers, family letters and historical archives, Dr. Millard weaves the story of a man shaped by his time who also helped shape the times. An orator with marketing and business acumen, charisma and natural leadership, Ben Millard came a long way from the farm he was born at near Crystal Lake, Minnesota in 1872. His heart would forever remain in the Badlands. 
"The Peace Corps: A Family's Response to JFK's Call"
Some of the adventurousness and risk-taking that embodied Ben Millard must have been passed down to his grandson because Dr. Millard took his wife, Patty, three young sons and loyal dog, Trotsky, to Peru and Uruguay from 1968 to 1972 as members of the US Peace Corps.
This book tells the story of how this family survived revolutions, attempted coups and earthquakes, not to mention negotiating a foreign language and village life, to serve as county program director for American volunteers abroad. Dr. Millard was responsible for his volunteers' safety and that of his family, while balancing political and governmental upheavals and budget constraints. Details about the beaches, architectural ruins and holiday traditions in Peru and the markets, agates and gauchos of Uruguay are fascinating.
"Those years encompassed some of the best years of our lives," recalls Millard. "There were equal moments of unimaginable beauty, pleasure, hilarity and soul-enriching events and lessons."