FOREST LAKE — A group of veterans is experiencing the healing power of therapy, thanks to a caring team comprised of both two- and four-legged therapists.
Acres for Life Therapy and Wellness Center, which specializes in equine-assisted therapy, has launched a program specifically for veterans. The transition from combat to civilian life is often a difficult one, and the trauma that many military members experience can make the return home all the more isolating.
"For many (veterans), there are no words for what they have seen, done and experienced," said Sally Jane Mixon, Chief Development Officer and Equine Trainer.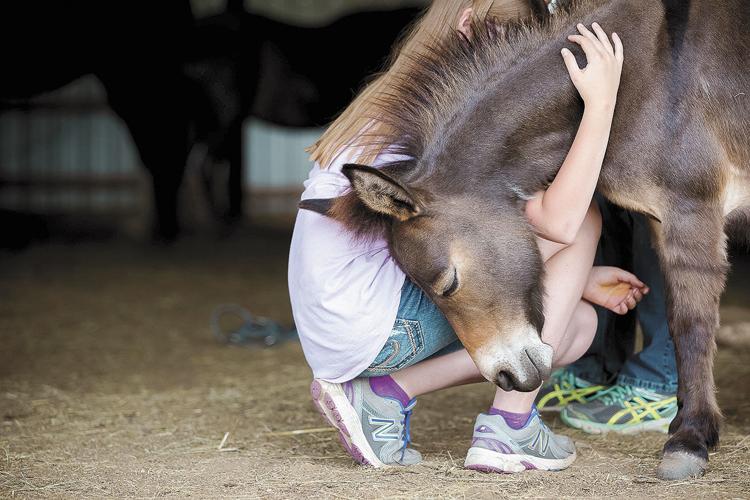 That's where the horses come in. Though humans have long found healing through communion with nature and connection with animals, there's much to suggest that horses make for something special. Mixon said that horses' ability to regulate trauma provides a helpful model for people with PTSD, which many veterans have been diagnosed with.
"(Horses) are prey animals, so they're constantly on high alert. But they have this ability to flick it off like a switch. So, they hear something, they lift their head up, they see if it's danger. If it's not, they go back to grazing," Mixon explained. "With people and past trauma, even though the cause of that trauma isn't right in front of us, it's still there. It triggers us, and we go into this spiral because of our adapted brain. We're smarter, we're wiser, we have the upper hand, but that's what keeps us stuck."
In 2016, Acres for Life, which was founded by Lynn Moore in 2001, merged with Abijah's Hope, a nonprofit Mixon started to rescue and rehabilitate horses in need. The fact that both Acres for Life clients and the horses with which they work have experienced trauma of some sort helps deepen their connections and, in turn, facilitate healing.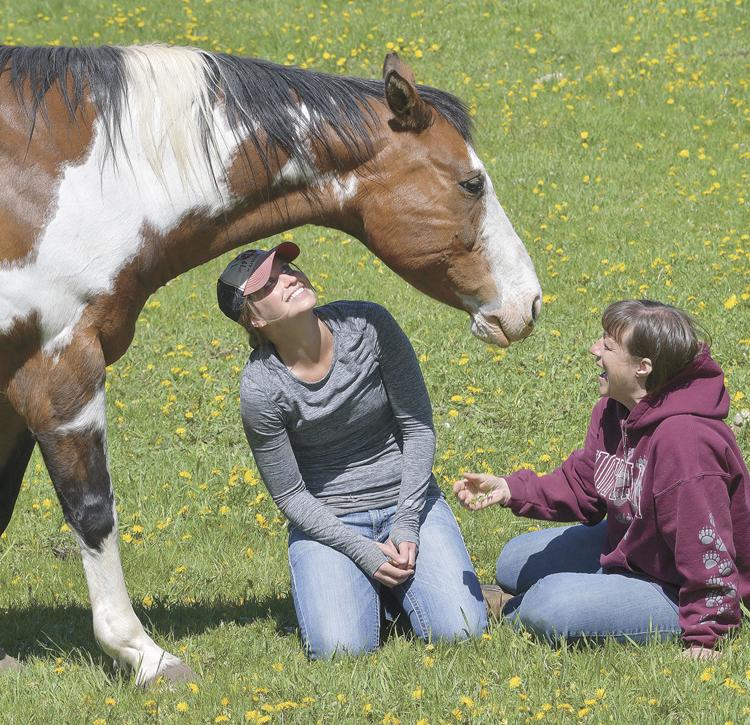 "Most of our herd has trauma—whether trauma of neglect, abuse (or) injuries—so they have a lot in common with many of our clients," Mixon said. "A lot of them were saved from slaughter or rejected and not able to be ridden, so their sense of value is lost. How many people can say that they feel the same?" 
Acres for Life follows the Equine-Assisted Growth and Learn Association (EAGALA) model of equine-assisted therapy, which is widely considered the gold standard for equine-assisted psychotherapy across the world. 
"Compared to traditional talk therapy—which is wonderful; we love talk therapy—this is a little different," Mixon said. "Rather than getting in your head and talking about things, you're focused on the body. Your senses are stimulated; you're moving; you're touching things. Your whole body is involved in this holistic experience."
Likewise, an EAGALA-based session takes place not inside with the client lying on a couch, but outdoors interacting with a horse.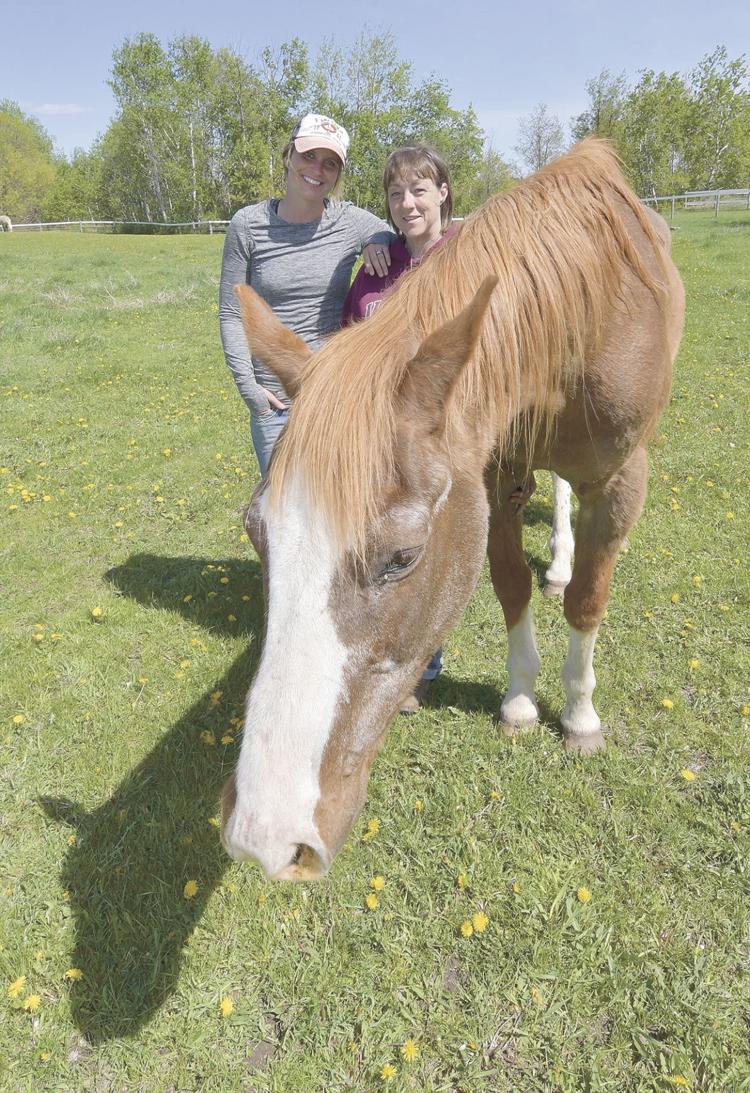 "Out in the pasture, the whole space becomes a big metaphor for the client's life. Horses, physical elements (and) nature become characters in the story. The horses are picking up on things going on internally in the client through shifts and patterns and unique behaviors that we watch for," Mixon said. 
Though clients come to Acres for Life for myriad reasons, anxiety, depression, addiction and PTSD are common afflictions. During the initial sessions, therapists prompt clients to see the horse as a physical manifestation of their struggles.
"We ask who or what this large thing that's coming towards you and is all over you is. One guy said, 'It's my addiction. It's big, and I can't move or control it,'" Mixon said. "Another time, a vet put his forehead on the horse, started crying. He looked at me and asked 'What's wrong with me? I'm crying, and I don't know why.' But nothing was wrong with him …. His body was having a powerful experience. We have him soak that in, kind of allow that time for the brain to catch up with the body."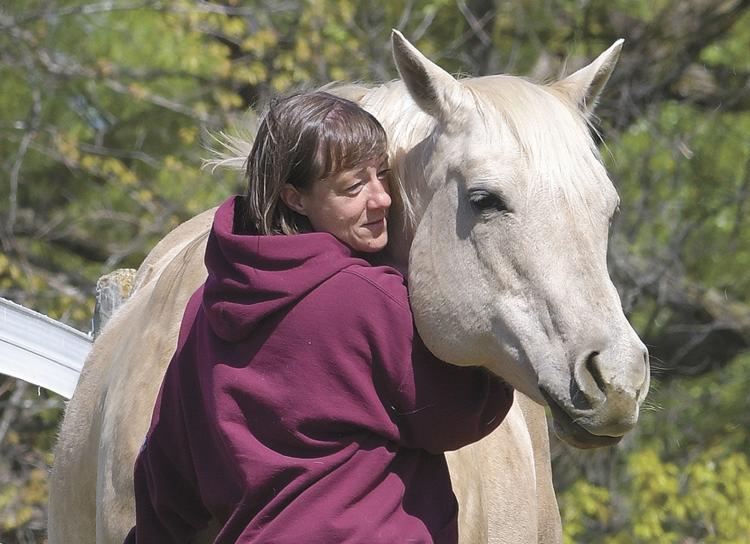 By the end of 2019, Acres for Life is on track to hold approximately 3,000 sessions that will somewhere between 100 and 200 veterans. Both individual and group sessions are offered; an eight-week women's group started in May, and others will follow after. 
Mixon, who grew up with horses—"They were kind of my therapist, so to speak," she said—loves that her work at Acres for Life gives her the opportunity to witness others experience that same healing power.
"It's transforming; it's truly a healing process that takes place internally. I've seen clients from little kiddos to older veterans (who) do a 180," she said. "When you're out in that space, you're forced to become present, because there's a 1,200-pound animal breathing on your face. You're not thinking about 'What am I going to do tomorrow? Why did I pull that trigger?' There's almost like a pause button, and they're able to breathe, which creates an opening to healing. It gives space to their space." 
Acres for Life is located at 18323 N. July Ave., Forest Lake. For more information, call 651-257-4159 or visit acresforlife.org.
Elizabeth Callen is a staff writer and reporter for the Lowdown, and can be reached at 651-407-1229 or lowdownnews@presspubs.com.